CMOO is OPEN! Oswego County has entered Phase 4 of New York State's reopening plan, allowing museums to open their doors. We are excited to welcome visitors back into the Museum. 

The safety and well-being of our visitors, staff, and community is our number one priority. We are committed to doing our part to reduce the spread of COVID-19. Like most places reopening, CMOO will look a little different than before. Some of the differences you will notice include:

New hours of operation. CMOO will be open:
Tuesday- Friday: 9:00-11:30, 1:30-4:00
Saturday: 10:00-12:30, 2:30-5:00
Sunday: 10:00-12:30, 1:30-4:00

Reservations are required for both members and non-members and will be in 2.5 hour time slots, with one play session in the morning and one in the afternoon. This will allow us time to deeply disinfect and adequately ventilate between sessions. Reservations will also allow the Museum to limit the number of visitors at one time to 75 to help allow for social distancing.
Tickets are non-refundable. Please let CMOO know 24 hours before your reservation date and time if you are unable to visit so that we can make room for others. If you would like to reschedule your visit please contact the Museum at 315-216- 6387.

A new health policy has been put in place with the following rules:
Do not visit if you or anyone in your group is not feeling well.
All visitors over the age of 2 will be asked to wear a face covering or mask that completely covers their nose and mouth.
Keep at least 6 feet between yourself and other groups.
Follow all health and safety signage and guidance from staff.
Wash your hands/use sanitizer often.
Only one family/group will be allowed in the restroom at a time.
Only one family/group will be allowed in the elevator at a time.
Please keep in mind:
Water fountain will be shut off – please plan accordingly and bring water.
Water smocks will not be available for water table – please plan accordingly and bring a change of clothes.
You will notice that there are fewer hands on items out in exhibits and the costumes have been removed.
Anyone entering the Museum must be free of the following symptoms related to the COVID-19 virus including fever, chills, cough, shortness of breath, muscle aches, sore throat, headache, and/or new loss of sense of smell or taste.
Also, anyone entering the Museum must NOT have come into close contact (within 6 feet) with someone who has a laboratory-confirmed COVID-19 diagnosis in the past 14 days.
Curious about our sanitizing and disinfecting policies? CMOO follows the guidance of the Centers for Disease Control (CDC) and New York State Department of Health (DOH) closely.
https://www.cdc.gov/coronavirus/2019-ncov/community/clean-disinfect/index.html
https://coronavirus.health.ny.gov/system/files/documents/2020/03/cleaning_guidance_general_building.pdf
We get a lot of questions about our water table, so we made this helpful graphic! Again, CMOO follows CDC COVID-19 related guidelines, as well as exhibit fabricator specifications for cleaning and disinfecting.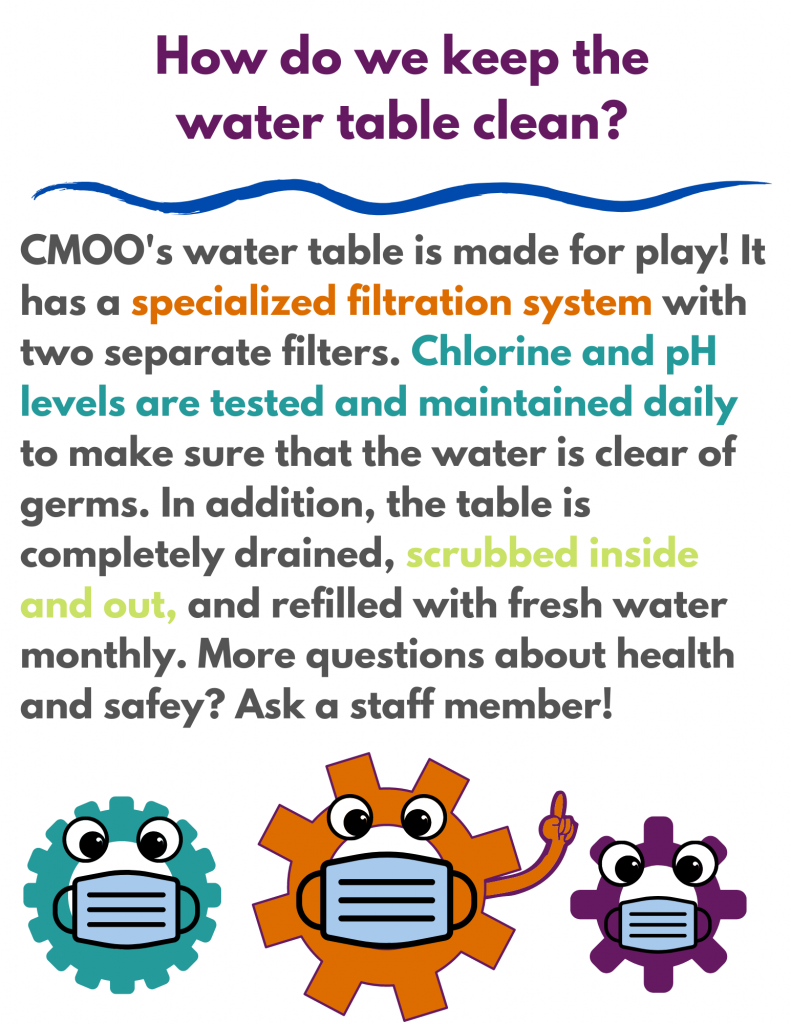 For more information about COVID-19 in Oswego County please visit: https://health.oswegocounty.com/information/2019_novel_coronavirus/index.php